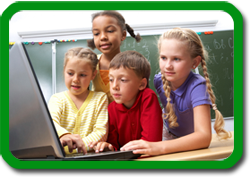 Vista Learning, NFP, an organization committed to student growth and development through continuing education, training and technology, is working to close the digital divide through a program called Computers 2 Kids. Through this program, Vista Learning, assisted by the Will and Grundy-Kendall Regional Offices of Education and the Professional Development Alliance, will provide local children and their families with upgraded, refurbished home computers to help increase access to educational opportunities and support academic success.
Giveaways
As of May 2020, the Computers 2 Kids initiative has gifted over 790 computers to the Will, Grundy, and Kendall County area.
Additional donated computers and funds for parts would make it possible to help the growing number of children whose lives can be improved through educational opportunities.
Upcoming Giveaways
Kendall County
Tuesday -April 25, 2023
Kendall Regional Office of Education
109 W. Ridge Street
Yorkville, IL 60560
Grundy County
Wednesday - April 26, 2023
Grundy Regional Office of Education
1320 Union Street
Morris, IL 60450
Will County
Thursday - April 27, 2023
Professional Development Alliance
2705 McDonough Street
Joliet, IL 60436
You can also provide financial support for necessary upgrades needed for the computers.
To let us know how you can help, call Tara Ehlers at (815) 725-5510, or you may send us a tax deductable donation online via credit card or PayPal.
Resources for Schools