Computers 2 Kids
Working to close the digital divide
Vista Learning, NFP, an organization committed to student growth and development through continuing education, training and technology, is working to close the digital divide through a program called Computers 2 Kids. Through this program, Vista Learning will provide local children and their families with upgraded, refurbished home computers to help increase access to educational opportunities and support academic success.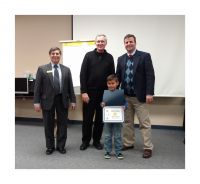 Dr. Jay Linksman, Larry Weirs, Honorable Dr. Shawn Walsh, and a Computers 2 Kids Recipient
Computers 2 Kids
We strive to break down the digital divide by providing laptops to disadvantaged students and their families. The Computers 2 Kids initiative helps support students who have a sincere desire to learn and succeed. As of May 2023, the program has gifted over 1000 computers to students in the Will, Grundy, and Kendall County areas.
Upcoming Giveaways
Grundy County
December 4, 2023

Kendall County
December 6, 2023

Will County
December 7, 2023
Schools: Recommend a Student